What you need to know about a Business Owners Policy (BOP)
Business Owner Policies (BOPs) are package policies that include customized coverage combinations designed for a variety of niches.  Most insurers have target markets or underwriting appetites and they build products around those targets.  For example, a wholesale BOP might have higher limits built in for items in transit, or a restaurant BOP might have special coverage for food spoilage or kitchen equipment or liquor liability.  The term "BOP" used to be fairly common, but it's becoming more of a shop talk term among industry professionals. Most insurance company marketing and messaging has transitioned to the language of "package policies".  The packages may or may not be considered a BOP by technical definition- but the important thing to know is that carriers do have packages with protection designed for particular industries.
Common categories for package policies include: contractors, retail stores, wholesalers, manufacturers, distributors, dealers, hotels, restaurants, rental properties, churches, non-profits, and professional services (medical, legal, financial, etc).
BOP policies often include General Liability, Property, Inland Marine, Directors & Officers, Employment Practices Liability, Cyber Liability,  and possibly some auto coverage.
BOP policies typically do not include Workers Comp and primary auto liability for vehicles you own.  If auto coverage is included- usually it is limited to Hired and Non-Owned Auto liability.
Each BOP or package policy has a list of extra protections that will be included and can't be removed.  These items typically have no cost impact- so even if you could remove them, there would be no premium savings.  Of course, you can usually add or increase limits on certain items if the basic limits are not sufficient. There are also other types of package policies or you can purchase each policy type individually.  While packages are usually less expensive for better coverage, certain industries and niches may have special protection needs that are best addressed individually.
The information provided here is for informational purposes only. Insurance coverage and requirements can vary from state to state, so be sure to check your local laws and regulations or speak to a local insurance agent in your state.
We work with independent agents across the country to find you the best premium and the best coverage. Choosing an independent agency over a captive agency is generally the most cost effective way to find the best insurance coverage options for your business. 
Deciding what insurance coverage is right for you, and which company or agent has your best interest in mind is often the hardest part.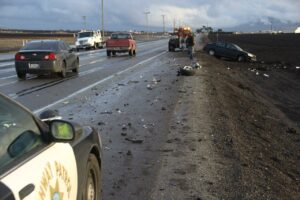 Car Insurance
Don't wait till you have an accident to figure what you need to do.
Read More »