What you need to know about homeowners Insurance
In most cases, a person's home is the largest purchase they ever make. That's why having quality home insurance protection is essential to protecting your largest asset.
Home Insurance policies are generally made up of several parts. These parts consist of coverage not only for your property, but also your liability (legal liability that is) for any injuries or property damage you or your family cause to others.  
Homeowners insurance comes in many forms based on the type and usage of the property. For this reason, we partner with knowledgeable independent insurance agents that have access to numerous companies that can match your home insurance needs with the right company at the right price.
Home policies are made up of several sections of coverage, each one designed to protect a specific aspect of your property.
Click on a coverage below for more details.
Covers the cost of damage to the structure of your house and any attached structure, like your garage or patio caused by a covered peril.
Covers the cost of damage to structures that aren't attached to your home, like a pool house, detached garage, shed or fence.
Pays to repair or replace your personal belongings in case of damage or theft. Includes items such as furniture, clothes, electronics, etc. 
Pays for relocation expenses including temporary lodging while your home is being repaired or rebuilt. 
Covers you and your assets from expensive lawsuits if you're held liable for another person's injury or property damage. 
Home Insurance Policy Types
The type of policy you need will depend on the type of property you have. Those that own a condo or townhome will likely have different coverage needs compared to someone that owns a single family dwelling (single residence not attached to any others). 
Single Family Dwelling Home Insurance - HO3 & HE7 Policy Forms
While each state may have a slightly different version, the most common type of home insurance policy is the HO3 Homeowners Insurance Policy. This policy insures the vast majority of single family homes. In most cases, it provides replacement coverage for the structure of the home as well as coverage for the personal property stored within it. Additionally, it offers personal liability coverage for yourself and immediate family within the home.
The HE7 policy is nearly identical in many ways to the HO3. The primary difference is the HE7 typically provides either "Guaranteed Replacement Coverage" or "Extended Replacement Coverage" as opposed to just Replacement Coverage. The replacement coverage on an HO3 will replace the home up to the limit listed on the policy. The Extended Coverage will provide an additional 25-50% of coverage beyond the listed limit on the home. Guaranteed Replacement coverage offered by some carriers will actually replace the home no matter how high it goes beyond the listed limit. This additional level of replacement coverage minimizes, or in the case of Guaranteed coverage completely removes, the possible of being underinsured.
While under normal market conditions being underinsured is really not much of a concern for most people. Throughout the pandemic and in the years following we've seen enormous levels of inflation affecting all manners of materials and labor. Lumber at one point sky rocketed causing the cost of a repair or rebuild to be vastly higher than what was originally expected years prior. 
The other time this can be a concern is following a large natural disaster. One example would be in coastal states following a large hurricane. In the weeks and months following, the demand for materials and labor jump causing the cost of the repair or rebuild to be much higher than originally anticipated. Without this additional level of coverage, you might have to pay the difference between the home insurance coverage you have and the actual cost to replace your home. 
Condo & Townhouse Insurance - HO6 Policy Form
Condo & Townhouse Home Insurance are structured nearly the same as a traditional home insurance policy (HO3). The primary difference is the amount of coverage to repair or replace the home/unit. Because these are multi-unit properties, the policy doesn't include coverage for portions of the structure owned by another person. 
Typically, multi-unit communities like this have an HOA (Home Owners Association) made up by unit owners within the community. The HOA will typically carry a master policy that will insure portions of the community that are communal and/or shared by multiple unit-owners. For example, if two next door neighbors share the same roof, the HOA will typically insure the exterior of that property. The remaining portions (the interiors) of the property are then left to be insured by each unit owner.    
Renters Insurance - HO4 Policy Form
A renters insurance policy is for a tenant that rents their home from a landlord. Unlike the other types of home insurance above, renters insurance doesn't actually insure the home, condo or townhome at all. It insures your personal belonging within the home such as furniture, clothes, electronics, etc. 
The information provided here is for informational purposes only. Home insurance coverage and requirements can vary from state to state, so be sure to check your local laws and regulations or speak to a local insurance agent in your state.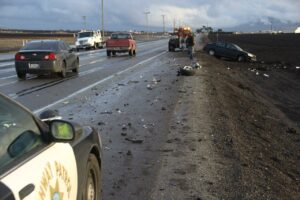 Don't wait till you have an accident to figure what you need to do.
Read More »